The C.M.M. evangelism team went back to New Abirim for another visit on October 21, 2019.  Forty-one people accepted Jesus Christ as their Savior and two healings took place.   In addition, there was a baptism service conducted at a local lake.   The full report, as received from Rev. John Harrison is below.  
Greetings in Jesus Christ Our Lord and Savior!
We went back to New Abirim after some months now.   We got there in the morning hours of 10 am and by God's Grace we were able to preach., share and explain the word of  God to their understanding.
Out of 600 tracts we took to New Abirim, we shared 286 of them and 41 persons gave their lives to Christ as Lord and Savior.  We also baptized 17 people to the Glory of God.
Two notable healings took place. The first was an old man we prayed for when we went there, he couldn't see, and we prayed for him and left. This time, we visited his home again and reminded him who we were.  He told us after we left at our first visit, he was able to see a little but his vision wasn't clear.  He purposely asked us to pray for him again and we agreed with him and prayed.  He can now see and asked us to come again.   PRAISE THE LORD!
The second healing was a woman who was half paralyzed and couldn't stand and walk. We prayed for her and the Lord raised her back to her feet.
We thank God for His Mercies and Grace upon our lives.
Keep praying for us.
Photos below: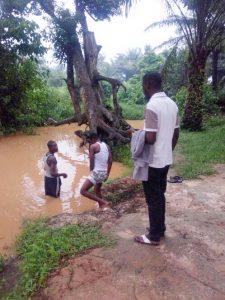 Healing photos below: