Greetings in the name of our Lord Jesus Christ!  
On Wednesday 2nd September 2020 and by the Grace of God, we were able to travel to Adakalu Akpetsu in the Volta Region of Ghana.  This area is known to be one of the demonic strongholds in the Volta Region.
As the Bible says we were about our Father's business by evangelizing the lost.  We started sharing tracts, preaching, explaining the messages on the tracts to their understanding and God worked with us by confirming His Word with salvations, miracles and healings!
It was a powerful evangelism as the sick were healed and many lives were turned to the Lord.  In all, we shared 401 Gospel tracts and 121 persons gave their lives to accept Jesus as Lord and Savior.
In addition, 3 people were healed as well, and the joy of the Lord filled their hearts!
The last two pictures below is a woman who was sick for 3 years.  She couldn't do anything and was always lying down. By the power of God she was made whole!
A family also invited us to share the word with them and pray for them.  Pastor David led us to teach and pray for them since he can speak their language.  They all gave their lives to Jesus with joy.
PRAISE THE LORD!!
WE BLESS GOD FOR THE SALVATION OF THE PEOPLE OF ADAKLU AND USING US TO GLORIFY HIS NAME!
GOD BLESS YOU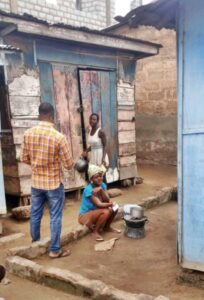 \